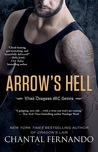 Arrow's Hell by Chantal Fernando
My rating: 4 of 5 stars
Copy received via netgalley in exchange for an honest review
★Book Basics★
Genre : – Cont Romance
Series : – 2nd in the series.
Love triangle? – No
Cheating? – No
HEA? – Yes
Would I read more by this author/or in this series? – Maybe
Rating – 3.5 rounded up to 4 stars

★Review★
While I did enjoy this, I felt I sometimes struggled feeling a connection to the main characters.
Normally, in all honesty I am not a fan of books where one of the main characters is grieving, but here it did not bother me so much, mainly as it had been a good numbers of years, and even in the first book, Arrow and his girlfriend were never exclusive so it did not feel like he was grieving for a lost love, more grieving for a friend and guilty as he could not have loved her in that way.
But in saying that, I feel like this book could have benefited from some more Arrow POV other than the little we got. The heroine in this book felt almost like a carbon copy of the heroine in the first book ( both being portrayed as "clever" Kickass heroines, who are students, who become little sisters to the MC guys, being a bit mouthy etc) so some Arrow POV may have lessened this to an extent.
All in it never really got too deep, lots of going back and forth, "I want you but cannot have you" etc.
However, I did enjoy it but would have enjoyed it more if we had really got into the mind of Arrow, as opposed to the story being carried by a heroine who was very similar to the heroine in the first book.
Amazon UK Link – Arrow's Hell (Wind Dragons Motorcycle Club Book 2)

Amazon US Link – http://amzn.com/B00P42LPAS