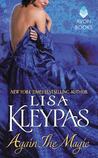 Again the Magic by Lisa Kleypas
My rating: 5 of 5 stars
★Book Basics★
Genre: – Historical Romance
Series: – 0.5 in the Wallflowers series.
Love triangle? – No
Cheating? – No
HEA? – Yes
Would I read more by this author/or in this series? – Yes
Rating – 5
★Review★
There used to be a time I read nothing BUT historical romances, but I got bored tbh of reading about 17/18 year old innocent virgin heroines who somehow manage to bring the 30 something year old Rake to his knees, but after hearing lots (and I mean lots) about this author and in particular this series I decided to give it a go. And here we do not have the usual characters that are so over populated in the romance genre, no young innocent virginal miss, and the "jaded" rake of a duke etc.
Now, given the blurb, there is nothing really in that that suggests it is something I have not read before – re united lovers is a overdone plot in historicals.
What made it different – well, the hero is not of the Ton, or a title of any sorts. I have read it the other way around, with the heroine being impoverished, or not having a title or a governess etc, but generally not this way around.
And it was so much more than a lovers reunited story. It had true depth and emotion and drew me in as the reader until I felt like I was living and breathing the story myself.
You truly felt for both McKenna and Aline, and all they had been through, and what they had meant to each other.
We also had a side story (although really it was like another main love story) of Aline's sister and McKenna's friend, which instead of taking away from the main story, only added overall to the book. And again, in this relationship it touched on something not usually done in historicals, that just added to their story, an added depth, pain and overall love to their relationship.
Here we had a heroine (or heroines) who were older, had suffered, and were going to reach out and take what they wanted. They knew their own minds and especially in the case of Olivia, Aline's sister, knew their own worth and what they deserved and how they wanted their life to be.
A truly perfect historical romance.
Amazon UK Link – Again the Magic (The Wallflowers)

Amazon US Link – http://amzn.com/B0099UYH2E