Bad Apple


Expected publication: September 1st 2016
"The road to hell is paved with good intentions…
Apple "Core" Drew needs The Uncertain Saints MC like he needs air. He is barely making it through the day, and each one that goes by takes him closer and closer to hell. Literally, not figuratively.
He's a half breath away from killing himself—maybe not by taking his own life, but he's not against making someone else do it for him.
Then he meets her. One of his club member's sister, and his whole outlook on life changes.
And not for the better.
Just as surely as he ruined his life, he ruins her life, too. One lapse in judgement on his part, and his one night of happiness turns into the worst nine months of his life.
Which he would've thought was damn near impossible with the things he's done and seen.
She never saw it coming…
It was the beard. The beard made her do it.
That is a good excuse for having sex with a man she barely knows, isn't it?
Yeah, who was she kidding? It wasn't the beard. It was the way he looked so dejected and solemn. The sad look in his eyes pulls her in, and the way his rough hands touch her makes her stay.
All she wants to do is take that look out of his eyes, but the consequences to her actions only make things worse, not better.
One day is all she gets, and he's not willing to give her more.
Until she dies, that is. Then it's too late"
Amazon UK Link – http://amzn.to/2bPGfbm
Amazon US Link – https://amzn.com/B01GISRHA8
---
Skeletons of Us


Expected publication: September 2nd 2016
"Love can be a beautiful thing.
It can fill up your life with the warmth of its embrace and spread to every corner of your mind.
It can quiet your soul.
But when that love turns wrong, it warps into something bitter and unrecognizable.
The pain of it promises unyielding noise in place of that half-remembered silence.
Lexie has lived with this pain for four years, pouring it into music that transformed Unquiet Mind into the most famous rock band in the world.
But fame can also turn ugly, twist into that bitter version of love and endanger everything Lexie holds dear.
The moment Lexie's life is threatened, he comes back to ensure she stays breathing.
Killian.
He's not just back to save her life, he's back to save her soul and to claim what's his.
Problem is, someone else already considers Lexie his, and he'll kill to make sure she stays that way.
Note: This is the book two of two. It is highly recommended to read Echoes of Silence first. "
Amazon UK Link – http://amzn.to/2bshV29
Amazon US Link – https://amzn.com/B01K1LIPWC
---
Mercenary


Expected publication: September 6th 2016 by Swerve
"Sometimes in life, choices just aren't part of the plan. When fate interferes and bulldozes right over you.
That's how I felt the first time I saw him. Standing in my kitchen, soaking wet, hotter than a man has the right to be, and holding a knife.
Declan's cold, stone-cold. I can't help but want him. His presence stirs up some raw emotion within me. He seems so…alone. But is he here to kill me or save me?
He's the one man I should never want…and the one I can never forget."
Amazon UK Link – http://amzn.to/2bPIR8O
Amazon US Link – https://amzn.com/B01FQRPG3C
---
Too Wild to Tame


Expected publication: September 6th 2016 by Forever
"Sometimes you just can't resist playing with fire . . .
By day, Aaron Clarkson suits up, shakes hands, and acts the perfect gentleman. But at night, behind bedroom doors, the tie comes off and the real Aaron comes out to play. Mixing business with pleasure got him fired, so Aaron knows that if he wants to work for the country's most powerful senator, he'll have to keep his eye on the prize. That's easier said than done when he meets the senator's daughter, who's wild, gorgeous, and 100 percent trouble.
Grace Pendleton is the black sheep of her conservative family. Yet while Aaron's presence reminds her of a past she'd rather forget, something in his eyes keeps drawing her in. Maybe it's the way his voice turns her molten. Or maybe it's because deep down inside, the ultra-smooth, polished Aaron Clarkson might be more than even Grace can handle . . ."
Amazon UK Link – http://amzn.to/2bPGEdU
Amazon US Link – https://amzn.com/B01FRASBUS
---
The One Real Thing


Expected publication: September 6th 2016 by Berkley
"Welcome to Hartwell, a quiet seaside escape where uncovering old secrets could lead one woman to discover the meaning of a love that lasts…
While Doctor Jessica Huntington engages with the inmates at the women's correctional facility where she works, she's always careful to avoid emotional attachments in her personal life. Loss and betrayal taught her that lesson long ago. But when she comes across a set of old love letters in the prison's library and visits the picturesque town of Hartwell to deliver them to their intended recipient, she finds herself unable to resist the town's charm—and her attraction to the sexy owner of a local bar proves equally hard to deny.
Since his divorce from his unfaithful ex-wife, Cooper Lawson has focused on what really matters: his family and the boardwalk pub they've owned for generations. But the first time Jessica steps into his bar, Cooper is beyond tempted to risk his heart on her. Yet as their attraction grows hotter and Jessica remains stubbornly closed off, he begins to realize it will take more than just passion to convince her there's only one real thing in life worth fighting for…."
Amazon UK Link – http://amzn.to/2bBei69
Amazon US Link – https://amzn.com/B01CSLBXAY
---
Apprentice in Death


Expected publication: September 6th 2016 by Berkley
"Lieutenant Eve Dallas returns in a fast-paced new novel from #1 New York Times bestselling author J. D. Robb.
Nature versus nurture…
The shots came quickly, silently, and with deadly accuracy. Within seconds, three people were dead at Central Park's ice skating rink. The victims: a talented young skater, a doctor, and a teacher. As random as random can be.
Eve Dallas has seen a lot of killers during her time with the NYPSD, but never one like this. After reviewing security videos, it becomes clear that the victims were killed by a sniper firing a tactical laser rifle, who could have been miles away when the trigger was pulled. And though the locations where the shooter could have set up seem endless, the list of people with that particular skill set is finite: police, military, professional killer.
Eve's husband, Roarke, has unlimited resources—and genius—at his disposal. And when his computer program leads Eve to the location of the sniper, she learns a shocking fact: There were two—one older, one younger. Someone is being trained by an expert in the science of killing, and they have an agenda. Central Park was just a warm-up. And as another sniper attack shakes the city to its core, Eve realizes that though we're all shaped by the people around us, there are those who are just born evil…"
Amazon UK Link – http://amzn.to/2bBfhTR
Amazon US Link – https://amzn.com/B01ERVIUXQ
---
Guardian's Mate


Expected publication: September 6th 2016 by Berkley
"She wasn't ready to lead…
Chosen as the Guardian of her Montana Shiftertown, wolf Shifter Rae Lyall is facing opposition—for no woman has ever been selected for this powerful position. Still adjusting to the new authority thrust upon her, Rae travels to train with Zander Moncrieff, a Shifter healer, tasked with teaching her about her new role and its responsibilities.
He wasn't ready to love…
A polar bear Shifter, Zander wears no Collar and follows no rules but his own. Rae finds him arrogant and demanding, yet compelling and intriguing. Zander has no wish to mate but the sassy Guardian is drawing him out of his shell, stirring feelings long suppressed. And when a new threat looms over Rae's home, she and Zander must race to the rescue, forced closer to danger…and to each other. "
Amazon UK Link – http://amzn.to/2c1ahr4
Amazon US Link – https://amzn.com/B0191X34OA
---
Roadside Assistance


Expected publication: September 6th 2016 by Sourcebooks Casablanca
"Underneath the axle grease and tats
He's a gentleman
Foley Sanders figured he'll always be content with a life of cars and casual hookups. Until a run-in with Cyn, a statuesque firecracker with a hate-on for men, leaves him bewitched and intrigued-much to her annoyance.
Maybe Cynthia Nichols was a little hard on Foley, that muscular, tattooed, super-hot mechanic next door. But she's tired of feeling defensive about her size and has sworn off men. She's got a new job, new life, perfect plan. Foley has trouble written all over him-no way is she going to fall for his charms.
Foley might look like a bad idea, but underneath, he's all gentleman. Too bad Cyn's not buying it. What's a bad boy to do when the goddess of his dreams won't give him the time of day?
Body Shop Bad Boys Series:
Test Drive
Roadside Assistance
Zero to Sixty
Praise for Test Drive:
"High octane chemistry keeps the pages turning and your engine revving!"-Gina L. Maxwell, New York Times & USA Today bestselling author of the Fighting for Love series "
Amazon UK Link – http://amzn.to/2bKaO4i
Amazon US Link – https://amzn.com/B01DE9I4KG
---
Fighting to Be Free


Expected publication: September 6th 2016 by Grand Central Publishing
"Jamie Cole has just been released from juvenile detention. Determined to go straight, he tried to cut ties with crime boss Brett Reye–but Brett has no intention of letting him go. Jamie's life is already more complicated than it needs to be, yet when he meets a beautiful stranger at a bar, Jamie knows he's in over his head.
Ellie Pearce has just gotten out of a terrible relationship and isn't looking for anything serious…until she meets Jamie. Their attraction is overwhelming and intense-she can't seem to shake her growing feelings for him, even though she's trying to keep it casual.
But when fate goes horribly wrong and Jamie's family is faced with ruin, he's forced to strike a deal with Brett. Despite his struggles, he wants nothing more than a future with Ellie. That's until Ellie finds out that he's been hiding more from her than she could ever imagine… "
Amazon UK link – http://amzn.to/2c1b0Zf
Amazon US Link – https://amzn.com/B01CSLBX9K
---
The Protector


Expected publication: September 6th 2016 by Orion Publishing Company (United Kingdom)
"THE NEW NOVEL FROM THE #1 BESTSELLING AUTHOR OF THE THIS MAN TRILOGY AND ONE NIGHT TRILOGY!
People think they have Camille Logan nailed: daddy's girl; beautiful, spoiled young woman with her father's bank balance to fund her lifestyle. But Camille is determined to have a life free from his strings. Out on her own, she's made mistakes, including one that found her clawing her way back after a stint in rehab and plenty of bad press. Now, after fighting so hard to be independent and happy, she finds her life threatened as a result of her father's ruthless business dealings. Caught between resentment and fear, Camille prepares herself for the measures her father will take to protect her. But nothing could prepare her for the ex-SAS sniper who crashes into her life.
Jake Sharp resides in his own personal hell. He was distracted from duty once before, and the consequences were devastating–both personally and professionally. He vowed never to let that happen again. Accepting the job of bodyguard to Camille Logan isn't the kind of distraction from his demons he should take. Women and Jake don't mix well, yet protecting the heiress seems the lesser of two evils. But Jake soon discovers that she isn't the woman she's perceived to be. She's warm, compassionate, her presence settling, and his duty to protect her soon goes deeper than a well-paid job, no matter how hard he fights it. He needs absolution. He comes to need Camille. But he knows he can't have both."
Amazon UK Link – http://amzn.to/2bvax4U
Amazon US Link – https://amzn.com/B01B69SK1O
---
Well Hung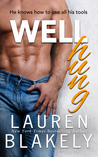 Expected publication: September 12th 2016 by Lauren Blakely Books
"From the NYT Bestselling author of MISTER O, comes a hot and hilarious new standalone…
Here's what you need to know about me — I'm well-off, well-hung and quick with a joke. Women like a guy who makes them laugh—and I don't mean at the size of his d*ck. No, they want their funny with a side of huge… not to mention loyal. I've got all that plus a big bank account, thanks to my booming construction business. Yup. I know how to use all my tools.
Enter Natalie. Hot, sexy, smart, and my new assistant. Which makes her totally off limits… 

Hey, I'm a good guy. Really. I do my best to stay far away from the kind of temptation she brings to work.
Until one night in Vegas… 

Yeah, you've heard this one before. Bad news on the business front, drowning our sorrows in a few too many Harvey Wallbangers, and then I'm banging her. In my hotel room. In her hotel room. Behind the Titanic slot machine at the Flamingo (don't ask). And before I can make her say "Oh God right there YES!" one more time, we're both saying yes—the big yes—at a roadside chapel in front of a guy in press-on sideburns and a shiny gold leisure suit.
But it turns out what happened in Vegas didn't stay in Vegas. And now, my dick doesn't stay in my pants when she's around. I try to resist. Honest. But the more we try to keep our hands to ourselves, the more we end up naked again, and the more time I want to spend with her fully clothed, too.
The question now is…do I take this woman to be my ex-wife?"
Amazon UK Link – http://amzn.to/2bKbvKW
Amazon US Link – https://amzn.com/1533560641
---
Roman Crazy


Expected publication: September 13th 2016 by Gallery Books
"Avery Bardot steps off the plane in Rome, looking for a fresh start. She's left behind a soon-to-be ex-husband in Boston and plans to spend the summer with her best friend Daisy, licking her wounds—and perhaps a gelato or two. But when her American-expat friend throws her a welcome party on her first night, Avery's thrown for a loop when she sees a man she never thought she'd see again: Italian architect Marcello Bianchi.
Marcello was the man—the one who got away. And now her past is colliding with her present, a present where she should be mourning the loss of her marriage and—hey, that fettuccine is delicious! And so is Marcello…
Slipping easily into the good life of summertime in Rome, Avery spends her days exploring a city that makes art historians swoon, and her nights swooning over her unexpected what was old is new again romance. It's heady, it's fevered, it's wanton, and it's crazy. But could this really be her new life? Or is it just a temporary reprieve before returning to the land of twin-set cardigans and crustless sandwiches?
A celebration of great friendship, passionate romance, and wonderful food, Roman Crazy is a lighthearted story of second chances and living life to the fullest."
Amazon UK Link – http://amzn.to/2bvaPbS
Amazon US Link – https://amzn.com/B0176M6NYG
---
Playboy Pilot


Expected publication: September 19th 2016 by Everafter Romance
"From the New York Times bestselling authors of Stuck-Up Suit and Cocky Bastard, comes a sexy new standalone novel.
Money or love? Which would you choose?
You probably just answered the question in your head thinking it's an easy decision.
For me, it's not. Did I mention it's a lot of money? A hell of a lot.
I needed to go far away to think it through.
As I embarked on an impulsive trip, I hit a detour when I met sexy Carter in the airport lounge. We struck up a heated conversation.
Then, he left.
I thought I'd never see him again.
But fate had other plans.
Surprise! He was the pilot of my flight.
The bigger surprise was the adventure that followed after the plane landed.
Carter was dangerous and always on the move.
Even though our connection was magnetic, I knew it was only temporary.
He would give me tickets, and I would follow him around the world to exotic places.
A bevvy of flight attendant exes and rumors about Carter's reputation were never far behind.
I didn't know what to believe.
But I was addicted. Nothing else mattered anymore. And I was going to get hurt. Because a part of me wanted to be the one to finally ground the playboy pilot.
At the very least, he was taking me on a thrilling ride.
All good things must come to an end, right?
Except our ending was one I didn't see coming."
Amazon UK Link – http://amzn.to/2bPI4oo
Amazon US Link – https://amzn.com/1682304310
---
A Fabrication of the Truth


Expected publication: September 20th 2016
"The last time Lexie Stein saw Dalton Reyes he lay in a pool of blood, hovering somewhere between life and death. Now, five years later, he's the new guy in her high school.
What happened between then and now is a mystery Lexie is afraid to explore. Just one lie uncovered from her past can cause the house of cards she's so carefully constructed to come crashing down around her. And Dalton is the key to that past.
She doesn't need her grandmother's warnings to convince her that Dalton means trouble. But the bond they shared as kids seems to have only gotten stronger, transforming into something wonderful and powerful.
When Dalton opens up about the intervening years and what they mean for his future, Lexie is determined not to let him get away a second time. "
Amazon UK Link – http://amzn.to/2bKara4
Amazon US Link – https://amzn.com/B01KPF96JU
---
Billionaire on the Loose


Expected publication: September 20th 2016
"The New York Times bestselling author of the Billionaire Boys Club novels is back with a sexy, sweet romance that proves opposites definitely attract…
Taylor is a genius when it comes to computers, but understanding the opposite sex is beyond her. Because she always fumbles her flirtations, she needs help in finding her Prince Charming. So when her friend, Gretchen, sets her up as a tour guide for a new guy in town, she says yes despite her misgivings.
She just doesn't expect Mr. Charming to actually be royalty…
A faction in his country wants him to be king, but Loch has no intention of taking the crown. To keep from being named as the next successor, he hatches a scheme to marry a totally unacceptable American woman. Quirky Taylor seems like the perfect person for the job, until Loch realizes he likes more about her than her ability to keep him off the throne.
When Loch's secret schemes come out, his chance of happiness with Taylor are blown—unless he can find a way to get the nerdy object of his affection to believe she's truly the queen of his heart…"
Amazon UK Link – http://amzn.to/2bvb2fj
Amazon US Link – https://amzn.com/B01CYNTD4O
---
Blood Red Kiss


Expected publication: September 20th 2016 by Pocket Books
"Good things always come in threes—and this paranormal romance anthology featuring steamy stories from New York Times bestselling authors Kresley Cole, Larissa Ione, and Gena Showalter is no exception!
Get ready for a collection chock full of vamps, demons, aliens, and plenty of sizzle!
In Kresley Cole's celebrated story "The Warlord Wants Forever," the first in her scorching Immortals After Dark series, vampire warlord Nikolai Wroth will stop at nothing to claim his Bride, the one woman who can make his heart beat again. But can beautiful Myst the Coveted accept an enemy vampire as her own?
Tehya has spent the last twelve years as an accidental wolf, but is truly a vampire at heart. When she gets injured, Lobo sneaks her inside MoonBound's headquarters and nurses her back to health…with potentially deadly consequences. Desire collides with danger in "Forsaken by Night," a MoonBound Clan novella from Larissa Ione!
In Gena Showalter's Otherworld Assassins novella, Dark Swan, Lilica Swan isn't quite human or otherworlder; she is the best—and worst—of both. She is willing to do whatever proves necessary to save her sister from the seductive and deadly Alien Investigation and Removal agent, Dallas Gutierrez, even bond her life to his…effectively wedding him. But without consummation, the bond will fade. Can Dallas resist his insatiable desire for the powerful beauty? Or will she lead to his ultimate downfall? "
Amazon UK Link – http://amzn.to/2bPINWN
Amazon US Link – https://amzn.com/B01CO4B1OS
---
Chandler


Expected publication: September 20th 2016 by Paige Press LLC
"I'm good in a boardroom, but I'm better in the bedroom. Much better. I can charm the skirt off any woman in one encounter. I'll even give her an orgasm before I put her in a cab. Or three. No more or she'll start making plans for the future and I'm not into that.
Or I wasn't until Genevive Fasbender. She's the first woman in five years that I want to spend the whole night with. And she's the first woman who's told me I'm not what she wants in a lover, even after multiple O's. She's brash and bold and stubborn as hell, and she doesn't believe it's possible to satisfy her.
But I'm up for the challenge.
And after an incident in my brother's office closet―a downright dirty incident―I think I'm just the guy to deliver.
Genevive Fasbender will never know what's coming.
Chandler is a full-length standalone novel.
Due to strong language and sexual content, this book is not intended for readers under the age of 18. "
Amazon UK Link – http://amzn.to/2bKaAdQ
Amazon US Link – https://amzn.com/B0128RQ1CI
---
The Goal


Expected publication: September 26th 2016 by CreateSpace Independent Publishing Platform
"She's good at achieving her goals…
College senior Sabrina James has her whole future planned out: graduate from college, kick butt in law school, and land a high-paying job at a cutthroat firm. Her path to escaping her shameful past certainly doesn't include a gorgeous hockey player who believes in love at first sight. One night of sizzling heat and surprising tenderness is all she's willing to give John Tucker, but sometimes, one night is all it takes for your entire life to change.
But the game just got a whole lot more complicated
Tucker believes being a team player is as important as being the star. On the ice, he's fine staying out of the spotlight, but when it comes to becoming a daddy at the age of twenty-two, he refuses to be a bench warmer. It doesn't hurt that the soon-to-be mother of his child is beautiful, whip-smart, and keeps him on his toes. The problem is, Sabrina's heart is locked up tight, and the fiery brunette is too stubborn to accept his help. If he wants a life with the woman of his dreams, he'll have to convince her that some goals can only be made with an assist."
Amazon UK Link – http://amzn.to/2bBijaw
Amazon US Link – https://amzn.com/B01FTC8I84
---
Where the Lotus Flowers Grow


Expected publication: September 27th 2016 by Lyrical Shine
"Even in darkness, love can bloom…
Heir to a multinational hotel empire, Liam Montgomery thinks business is everything—until he goes undercover to check out their locations throughout Asia. As cosmopolitan as Liam is, from the bright lights of Mumbai to the tranquil beaches of Goa to the bustling streets of New York, he's never met anyone like lovely Mary Costa. He can't understand why this delicate, educated woman works as a maid. Or how she is reigniting his long-buried desire to be an artist. They are apart in so many ways—especially in the things Mary won't tell him. But more and more, Liam can't imagine his life without her…
Mary knows this unexpected desire for Liam must end. It's true that his gentleness and sense of fun inspires her and makes her hopeful for the first time in her life. But she has a grim promise she feels compelled to keep—and painful experiences she fears he could never understand. And with secrets soon reaching out to separate them for good, can they dare risk a future together if it means confronting the scars of the past?"
Amazon UK Link – http://amzn.to/2bBhgaN
Amazon US Link – https://amzn.com/B01AEQB4GS
---
Sparking the Fire


Expected publication: September 27th 2016 by Pocket Books
"Kate Meader's blazing Hot in Chicago firefighter series has "everything you want in a romance" (RT Book Reviews, Top Pick)! The flames of desire burn out of control in this sexy third novel when ex-lovers unexpectedly reunite for a sizzling affair that will have the director yelling, "Quiet on the set!"
Actor Molly Cade, America's fallen sweetheart, finally has her shot at a Hollywood comeback with a dramatic new role as a tough-as-nails firefighter that promises to propel her back to the big time and restore her self-respect.
Wyatt Fox, resident daredevil at Engine Co. 6, needs a low-key job to keep him busy while he recovers from his latest rescue stunt. Consulting on a local movie shoot should add just enough spark to his day. Especially when in struts Molly Cade: the woman who worked his heart over good, and then left him in the Windy City dust.
Their story is straight out of a script: irrepressible, spunky heroine meets taciturn, smoldering hero. But these two refuse to be typecast, and when the embers of an old love are stoked, someone is bound to get burned… "
Amazon UK Link – http://amzn.to/2bPIJ9p
Amazon US Link – https://amzn.com/B01CO4B6PM
---