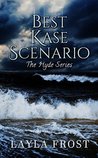 Best Kase Scenario by Layla Frost
My rating: 3 of 5 stars
★Book Basics★
Genre: – Cont. Romance
Series: – 2nd in the series
Love triangle? – No
Cheating? – No
HEA? – Yes
Would I read more by this author/or in this series? – Yes
Rating – 3
★Review★
I really loved the first book in the series, and had been looking forward to this one.
But, for me it felt flat.
In all honesty, the attraction between Kase and Harlow sort of came out of the blue, yes we had that little bit at the end of the first book, where she comes storming out of the garage and he chases after her, but in all honesty, when this book started, for the first few pages, there felt like there was more sexual tension between Harlow and Lars.
And I never understood really the need for all the secrecy around Harlow, why keep her family a secret. And why did she feel the need to be working as a stripper for money, and so desperate for money. I mean what did she do with the money, just save it? But if she was so worried about money and how her mom was paying for stuff, surely she would have been giving it to her, instead of just saving it and saving it. So if she had given it to her mom, her mom would have said they did not need it it, so no need for it all. But if she was just saving it, did she not wonder how her mom was paying for stuff anyway. Seemed like an odd situation all round and forced just to get her working in the strip club, so we could meet Lars (yet another hot bloke, like all the hot blokes we met in the last book, such as famous band members, owners of clubs who just might like to tie you up and spank you etc) and force Kase to make a move, as he had been moving sloooooowwwwwllllyyyy……so slow in fact it seemed to come out of the blue.
Lots of Harlow pushing Kase away, lots of sex regardless.
But I did enjoy it regardless, just not as much as book 1, I can read that again and find it just as enjoyable (actually book 1 is creepier on a re read, as you know what is coming, so you pick up on the little "tells" really that point to the dude going bat shit crazy)
A still enjoyable 3 stars, but not as good as book 1. However, I will be continuing on with the series.
Amazon UK Link – Best Kase Scenario (Hyde Series Book 2)

Amazon US Link – http://amzn.com/B01BHCD43O