---
Low


Expected publication: February 1st 2016
Amazon UK Link – Low

Amazon US Link – Low Kindle Edition by Mary Elizabeth
Blurb:
It's hard living on the wrong side of the tracks.
Lowen Seely has a criminal record to prove it. Determined not to follow in his father's footsteps, he fights instinct and tries honesty. But hunger becomes painful, and bills are due. Forced to choose between what is right and wrong, the boy from the hood learns abiding by the rules is nearly impossible when corruption is in your blood.
Falling for an outlaw has changed everything.
Poesy Ashby is the definition of ride or die, even when it means turning her back on freedom. The girl from the suburbs gives conformity the middle finger. Bonnie and Clyde have nothing on her love story.
On the run with consequences in the rearview mirror, Lowen and Poesy accept the truth: they are the bad guys.
But can they get away with their crimes?
---
Fighting Solitude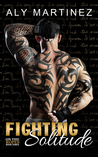 Expected publication: February 2nd 2016
Amazon UK Link – Fighting Solitude (On The Ropes Book 3)

Amazon US Link – http://amzn.com/B0190O0LRS
Blurb:
I was born a fighter. Abandoned by my parents, I spent my life forging my own path—one guided by my fists and paved with pain.
Untouchable in the ring, I destroyed everyone who faced me, but that's where my victories ended. Outside the ropes, I repeatedly failed the few people who loved me. Including my best friend, Liv James—the one person I'd die to protect.
Even though I didn't deserve her, Liv never stopped believing in me. Never gave up. Never let go. After all, she understood what I'd lost, because she'd lost it too.
Liv was everything to me, but she was never truly mine.
That was going to change.
I lost my first love, but I refused to lose my soulmate.
Now, I'm on the ropes during the toughest battles of my life.
Fighting to be the man she deserves.
Fighting the solitude of our pasts.
Fighting for her.
---
Expected publication: February 2nd 2016 by Mozaika Publications
Amazon UK Link – Bind Me (Capture Me Book 2)

Amazon US Link – http://amzn.com/B017UQSUVW
Blurb:
He's determined to break her.
For Lucas Kent, his new prisoner is a maddening contradiction: compliant yet defiant, fragile yet strong. He needs to uncover her secrets, but doing so may ruin everything.
His obsession could destroy her.
She's determined to escape.
For Yulia Tzakova, her captor is the man of both her dreams and her nightmares: tender one moment, cruel the next. She can't let him crack her, but resisting him may leave her broken.
A moment of weakness could cost her everything.
---
Wicked Sexy Liar


Expected publication: February 2nd 2016 by Gallery Books
Amazon UK Link – Wicked Sexy Liar (Wild Seasons)

Amazon US Link – http://amzn.com/B012OWJENK
Blurb:
When three college besties meet three hot guys in Vegas, anything can—and does—happen. Book Four in the New York Times Wild Seasons series that began with Sweet Filthy Boy (the Romantic Times book of the year that Sylvia Day called "a sexy, sweet treasure of a story"), Dirty Rowdy Thing, and Dark Wild Night.
For two people ambivalent about dating and love, they sure get naked around each other an awful lot . . .
London Hughes is very content to surf daily, tend bar, hang out with her group of friends, and slowly orient herself in the years after college. Everything's going great and according to the non-plan.
But when a wave knocks her for a loop one morning, then Luke Sutter's flirtatious smile knocks her for another that evening, she veers slightly off course…and into his path. Sure, he's a total player, but the Why not—it's only one night is a persistent voice in her ear.
For his part, Luke's been on hookup autopilot for so long that he rarely ever pauses to consider what he's doing. But after an amazing time with London, he realizes that he hasn't been moving on from a devastating heartbreak so much as he's been drifting to wherever—and whomever—the current takes him. With London he wants more.
Every relationship involves two people…plus their pasts. And as much as she enjoys her fling with Luke, when London learns about his past—more specifically, who's in it—everything becomes the brand of complicated she strives to avoid. It's up to Luke then to change some things in order to try and ensure he's not something she'll outright avoid as well.
---
He Will Be My Ruin: A Novel


Expected publication: February 2nd 2016 by Atria Books
Amazon UK Link – He Will Be My Ruin: A Novel

Amazon US Link – http://amzn.com/B010MFEBDO
Blurb:
"A nail-biting thriller…clever twists and turns will keep readers in suspense, and just when they think they have figured out what happened to Celine, the story veers in another direction."—Publishers Weekly
The USA TODAY bestselling author of the Ten Tiny Breaths and Burying Water series makes her suspense debut with this sexy, heartpounding story of a young woman determined to find justice after her best friend's death, a story pulsing with the "intense, hot, emotional" (Colleen Hoover) writing that exhilarates her legions of fans.
A woman who almost had it all . . .
On the surface, Celine Gonzalez had everything a twenty-eight-year-old woman could want: a one-bedroom apartment on Manhattan's Lower East Side, a job that (mostly) paid the bills, and an acceptance letter to the prestigious Hollingsworth Institute of Art, where she would finally live out her dream of becoming an antiques appraiser for a major auction house. All she had worked so hard to achieve was finally within her reach. So why would she kill herself?
A man who was supposed to be her salvation . . .
Maggie Sparkes arrives in New York City to pack up what's left of her best friend's belongings after a suicide that has left everyone stunned. The police have deemed the evidence conclusive: Celine got into bed, downed a lethal cocktail of pills and vodka, and never woke up. But when Maggie discovers a scandalous photograph in a lock box hidden in Celine's apartment, she begins asking questions. Questions about the man Celine fell in love with. The man she never told anyone about, not even Maggie. The man Celine believed would change her life.
Until he became her ruin.
On the hunt for evidence that will force the police to reopen the case, Maggie uncovers more than she bargained for about Celine's private life—and inadvertently puts herself on the radar of a killer. A killer who will stop at nothing to keep his crimes undiscovered.
---
The Rules


Expected publication: February 2nd 2016
Amazon UK Link – The Rules: An Older Brother's Best Friend Romance (Off-Limits Book 2)

Amazon US Link – http://amzn.com/B018UDXXRK
Blurb:
An older-brother's-best-friend romance
When you're a guy, the rules are simple. Live by the Bro Code:
Rule #1: Always have his back.
Rule #2: Don't ever leave him stranded.
Rule #3: Never, ever, touch his sister.
Aw, hell. Two out of three ain't bad.
———-
Warning: This story contains mature humor, a lot of cursing, and of course, sexual situations. It's intended for adult readers who enjoy that kind of thing.
———-
Lambo and Ainsley's story.
Dual POV with no cliffhanger.
Book 2 in The Off-Limits series. Standalone- but you'll enjoy it more if you read Book 1.
---
Midnight Revenge


Expected publication: February 2nd 2016 by Signet
Amazon UK Link – Midnight Revenge: A Killer Instincts Novel

Amazon US Link – http://amzn.com/B00X593EAG
Blurb:
From the USA Today bestselling author of Midnight Captive, the latest Killer Instincts novel is "off-the-charts-hot"* romantic suspense that takes readers into the heart of an enigmatic mercenary…
Out of all the stone-cold mercenaries in Jim Morgan's black ops organization, Derek "D" Pratt is the most intimidating. He is tight-lipped and covered in tattoos, and even the other guys on his team are afraid to ask him about his past. D's been off the grid for years, but after his teammate Sullivan is mistakenly captured in his place, D is forced to come out of hiding and face his demons.
When D lands in Mexico, he's ready to risk everything to save his friend. To complicate matters, Sofia Amaro, a feisty doctor whom D had a one-night stand with months ago, has tracked him down. And in an instant she's unintentionally caught up in his life-threatening rescue mission.
Now D must extract not one but two people from the most violent world he's ever encountered. And one of them is carrying his child…
---
Dare to Run


Expected publication: February 2nd 2016 by Signet
Amazon UK Link – Dare To Run: The Sons of Steel Row 1

Amazon US Link – http://amzn.com/B013UWFOMI
Blurb:
The New York Times bestselling author of the Out of Line Novels takes readers to Boston, where one gang of criminals knows how being bad can be so good…
She knows what he's like on Boston's mean streets. Now she's going to find out if he's got some heart.
Lucas Donahue is not ashamed of his criminal past, but after a brief stint in prison, he's ready to go legit and live a normal life. The problem is, no one leaves the gang without permission—even if he is one of the boss's top men. Plus someone's placed a hit on him. And then there's that feisty little bartender who's going to cause him even more trouble.
Heidi Greene knows to keep her distance from a ladies' man like Lucas—even if she can't keep her eyes off him. When he rescues her from an attack in the alley outside her bar, she's forced to stay by his side for safety. But the longer she spends time with him, the greater her chances are for getting hurt in more ways than one.
---
Right To My Wrong


Expected publication: February 3rd 2016
Amazon UK Link – Right To My Wrong (The Heroes of The Dixie Wardens MC Book 8)

Amazon US Link – http://amzn.com/B017KRJP7Y
Blurb:
Nightmares
Sterling and Ruthie have more things in common than they realize, even though from the outside it doesn't seem like they do.
Blood
Sterling is a decorated war hero.
Ruthie is an ex-con.
Their two worlds should've never collided, but fate has a way of turning life in the direction least expected. Now Ruthie has to try to come to terms with the fact that she's in love with a biker who's also a decorated Navy SEAL. One who leaves for months at a time with little to no advance warning, taking her heart with him each time he goes.
Pain
Sterling has a lot of things to overcome in order to have Ruthie, the biggest being her mind.
She doesn't think she's good enough.
He thinks she's perfect.
Now it's up to him to show her just how right he can be.
---
Dirty Ride


Expected publication: February 8th 2016 by Pocket Star
Amazon UK Link – Dirty Ride (Wind Dragons Motorcycle Club)

Amazon US Link – http://amzn.com/B0161OHDK8
Blurb:
From USA TODAY bestselling author Chantal Fernando comes a brand new Wind Dragons Motorcycle Club e-novella, full of sexy bad-boy bikers, strong heroines, and steamy romance!
Even by Wind Dragon Motorcycle Club standards, Irish was always a bit of a dark horse. Not one to confide his secrets, such as where he got that mysterious scar across his neck, he's quick with his fists and even quicker to jump to the defense of his MC. But is he nimble enough to handle the woman he never saw coming? Or will she leave him with a matching scar across his heart?
Featuring scorching hot chemistry and plenty of sass, Dirty Ride is sure to rev your engine and get you immediately hooked!
---
Legend



Expected publication: February 9th 2016 by Gallery Books
Amazon UK Link – Legend (The REAL series Book 6)

Amazon US Link – http://amzn.com/B00P42LRGU
Blurb:
Maverick "the Avenger" Cage wants to rise to the top and become a legend in the ring. Though he keeps his identity well guarded, he's known on the fighting circuit as the new kid with a chip on his shoulder and a tattoo on his back that marks him as trouble. He's got a personal score to settle with the Underground's one and only Remington "Riptide" Tate.
As Mav trains, he meets a young girl—the only other new person in the town–and sparks fly. When things get heated between them, he finds out she's none other than Reese Dumas, the cousin of Remington Tate's wife. A girl who's supposed to root against him and a girl he's supposed to stay away from.
But Maverick fights for the woman in his heart, and the monsters in his blood. The world's eyes are on them and the victor will go down in history as the ultimate fighting champion; the ultimate LEGEND.
The highly anticipated sixth story in the New York Times bestselling series that began with Real—"a rare mix of fevered obsession and gentle enchantment…a visceral and addicting debut" (Christina Lauren).
---
Savage: London Mob: Book One


Expected publication: February 9th 2016 by Blackthorn Press
Amazon UK Link – Savage: London Mob: Book One

Amazon US Link – http://amzn.com/B01914ZZHI
Blurb:
***A new full-length series from the bestselling author of Ruthless, Fearless, and Lawless***
If I was Superman, Jenna was my Kryptonite.
Farrell Black is dirty, dangerous, and holds nothing sacred. Growing up on the mean streets of London, he clawed his way to the top of a criminal empire with nothing but sheer force of will and the determination to need no one.
Ever.
Then he met Jenna Carver, and all bets were off — until the day she walked out of his life without a backward glance.
Leaving him was the hardest thing she'd ever done.
As a kid, Jenna knew how people looked at her. Like she was stupid. Worthless. Poor. So she spent her life working to become someone else. Then she met Farrell Black, and their all-consuming passion blew a hole in everything she thought she knew about herself.
Until she was forced to make a terrible choice.
Now Jenna is back in London for her father's funeral, desperate to avoid the one man who can banish her hard-earned reason in favor of red-hot ecstasy. But when her father's death is tied to an abuse of power at the highest levels, she has no choice but to ask Farrell for help.
As they work together to find answers to a puzzle that could have dangerous implications, desire threatens to undo them both — and forces Jenna to choose between keeping the secret of a lifetime and having the one man who can command her body and soul.
---
Hunted by Darkness


Expected publication: February 9th 2016 by KR Press, LLC
Amazon UK Link – Hunted by Darkness (Darkness Series Book 4)

Amazon US Link – http://amzn.com/B018VY7RNY
Blurb:
From two different worlds…
Now that she's escaped her oppressive family, Nyx is enjoying her new life and friends—even if most of her friends don't know who or what she is. As a rare demigod, she's just learning how powerful she truly is, but family drama turns her world upside down, throwing the one man she cares about into danger.
He wasn't supposed to fall for her…
Nyx is nothing like the females half-demon Bo Broussard has been with. Sweet and innocent, she's not even remotely his type. But the moment she walks into his bar, he knows he's not letting her go. Unfortunately someone from her past thinks they can force her into an arranged marriage.
He's not letting her go…
Someone is targeting one of them, and Bo doesn't know why. When they're thrown into a hell realm together, he and Nyx will need to band together if they want to survive the perils of that world. No matter who was behind the attack, his choice is clear. Defend Nyx at all cost and make her his forever.
---
Adore


Expected publication: February 9th 2016 by Snow Queen Publishing
Amazon UK Link – ADORE (Spiral of Bliss #4)

Amazon US Link – http://amzn.com/B01A986WUE
Blurb:
Liv and Dean West have always fallen together, but this time they might fall apart…
Liv and Dean have everything…almost. With a rambunctious toddler, crazy work schedules, and too many responsibilities, they've lost sight of their passionate, intimate marriage. And Professor West is none too happy about that.
Determined to lure his wife into hot new adventures, Dean struggles with his need to have Liv all to himself and the reality of sharing her with the world.
Then he gets an opportunity that could change their lives…and Liv is faced with the prospect of her white knight going places where she can't follow.
Book Four in New York Times Bestselling Author Nina Lane's Spiral of Bliss series.
---
His Light in the Dark


Expected publication: February 9th 2016
Amazon UK Link – His Light in the Dark

Amazon US Link – http://amzn.com/B018PTM014
Blurb:
My first memory was of a slap, hard across the face: the sting on my cheek and the jarring of my bones as I slammed back into my bed. It was my dad who had hit me.
I had been four.
Most of my memories were much of the same and no one ever saw, no one ever fought to help, no one ever cared.
Then we moved.
My new neighbor cared, rescued the twelve-year-old I had been from a beating. Always thought I'd suffer the nightmare alone, I was wrong.
Mace Donati saved me that day in all the ways a person could be saved.
And his daughter, Mia, she became the friend I had always wanted, my conscience when my own faltered, the light that led me home when I had lost my way.
The girl who grew into the only woman I would ever love.
But when you realize you're more like your father than the good people who took you in and gave you a home, the only way to return their kindness is to let them go.
I let them go, got so far lost in the shadows I couldn't remember who I was anymore. Mia never gave up on me. She fought for me, kept the light on so I'd find my way back.
And when I did, life threw us a curveball. I had to hurt Mia in order to save her.
But when my past comes back to haunt me and I almost lose her, I'm ready to fight for her…fight to find a way back into her heart while keeping the demons from my past from finishing what they started.
Cole Campbell
---
Identical Disaster



Expected publication: February 14th 2016 by C.M. Owens
Amazon UK link – Identical Disaster (The Sterling Shore Series Book 8)

Amazon US Link – http://amzn.com/B01ATZTMH2
Blurb:
JAX
My life was simple… until Bo Brendon crashed into my lap. Shy girls aren't my thing, yet somehow, she's under my skin and in my head. It's a f*cking nightmare. Yet it's a nightmare I don't want to give up.
BOLIVIA (BO)
Jax Marshall was an accident. A really sexy, smart, incredibly smooth, hot… accident. He's the kind of guy you shouldn't fall in love with, because he could crush you with barely any effort. Especially someone like me. Either it will be the best thing to ever happen to me, or it will be the disaster that leaves me in ruins.
I guess I'll find out.
*****
*Adult content
*Can be read as a stand-alone
*Dual POV
---
The Lie


Expected publication: February 15th 2016
No Pre order links yet
Blurb:
Their love led to a lie
Their truth led to the end
Brigs McGregor is crawling out from the ashes. After losing his wife and son in a car accident and his job from his subsequent downward spiral, he's finally moving forward, getting a prestigious teaching position at the University of London and a new life in the city. Slowly, but surely, he's pushing past the guilt and putting his tragic past behind him.
Until he sees her.
Natasha Trudeau once loved a man so much she thought she'd die without him. But their love was wrong, doomed from the start, and when their world crashed around them, Natasha was nearly buried in the rubble. It took years of moving on to forget him, and now that she's in London, she's ready to start again.
Until she sees him.
Because some loves are too dangerous to ever indulge.
And some loves are far too powerful to ignore.
Their love just might be the life and the death of them.
---
The Absolution of Aidan


Expected publication: February 16th 2016 by Kathy Coopmans
Amazon UK Link – The Absolution of Aidan (The Syndicate Series Book 3)

Amazon US Link – http://amzn.com/B019MF56YI
Blurb:
Aidan Hughes
I was cruel to Deidre La Russo. Said things I should never say to a woman.
Seen things happen to her.
Things darker than the bottle of liquor I consume.
I felt helpless.
Defeated.
The memories are more tortuous than the act of her torture.
Then she walks back into my life, only she's not alone.
Deidre La Russo
I have my reasons for leaving.
I lived through hell.
I was beaten, tortured. Drugged.
I have secrets.
I have to tell them.
Danger brought us all together.
Danger may rip us apart.
Book three of The Best Selling Syndicate Series.
Books one and two are available now.
The Wrath of Cain
The Redemption of Roan
For 18 and over due to explicit sex, graphic violence and language
---
Unexpected Rush


Expected publication: February 16th 2016 by Berkley
Amazon UK Link – Unexpected Rush: Play-By-Play Book 11

Amazon US Link – http://amzn.com/B00XHYYQP6
Blurb:
In the new Play-By-Play novel by the New York Times bestselling author of All Wound Up, a football hot shot and his best friend's sister are breaking all the rules.
All the Right Moves
For Barrett Cassidy, playing defense for the Tampa Hawks is a dream come true. And now he may have discovered his dream woman. Harmony Evans, once the sweet, gawky teenage sister of his best friend and teammate has grown into a smart, gorgeous woman with moves he finds hard to resist. But he knows he can't get involved with his best friend's sister—it's guy code.
Harmony has always gone after what she wants with single-minded determination, from her independence to her education to her career in social work. She never expected her youthful crush on Barrett to develop into something deeper. And she's not about to let some ridiculous man rules or her brother stand in her way.
When the chemistry is this combustible, lines tend to get crossed. And when Barrett and Harmony's secret gets out, it just might be game over…
---
RYDER



Expected publication: February 23rd 2016
Amazon UK Link – RYDER (Slater Brothers Book 4)

Amazon US Link – http://amzn.com/B018R5MTJY
Blurb:
Branna Murphy is broken. For months now she has been a part of a one-sided relationship to a man she loves more than life itself. She prayed for a miracle, and hoped something would change, but found that was wishful thinking.
Talking didn't work. Shouting didn't work. Crying didn't work. Nothing bloody worked.
Ryder Slater is furious. For months now he has been lying to a woman he would take a bullet for in order to protect her. He is involved in something that goes deeper than his old past, and if he strays off target, people will start to die. People he loves.
He couldn't talk. He couldn't slip up. He couldn't lose focus. He couldn't do a damn thing.
Things between Ryder and Branna are at rock bottom, and Ryder knows it. Not only will he be taking on a force that could destroy his whole family, but he will be battling tooth and nail to save his relationship and keep the love of his life by his side.
Ryder targeted Branna from the first moment he saw her, and what Ryder targets, Ryder dominates.
---
The Power


Expected publication: February 23rd 2016 by Spencer Hill Press
Amazon UK Link – The Power: The Titan Series Book 2

Amazon US Link – http://amzn.com/B00YN3S2LY
Blurb:
With any great change, there is always strife, and the Covenant University has become the frontline between pure-bloods who want the Breed Order reinstated and the half-bloods who want the right to control their own destinies.
Fate has other plans.
The violence is escalating and war between the races seems inevitable, and it couldn't come at a worse time. Hyperion may be out of commission, but Josie and Seth know they have only earned a reprieve. Seth must get Josie fully prepared, which means controlling her newfound abilities, and they need to find the other demigods before the Titans do.
But the gods are sensing a greater threat.
Only one thing is more dangerous than a bunch of starved Titans, and that's an out-of-control Apollyon. The aether in Josie is drawing Seth in deeper, and when lust mixes with love and gives way to power, he knows being close to her is not only dangerous to her, but to everyone around them, but letting her go requires a level of selflessness that just isn't Seth's style.
The paths taken in the past are becoming the roads of the future.
Just as chaos breaks out, familiar faces from the past return, complicating the already strained bond between Josie and Seth, and when the danger from the Titans erupts with devastating consequences, the dark allure of power calls to Seth again, but this time Josie might not be able to pull him back.
And when the struggle between power and love becomes the deadliest battleground, there may be no salvation.
---
Can't Stay Away


Expected publication: February 29th 2016
Amazon UK Link – Can't Stay Away

Amazon US Link – http://amzn.com/B01AF5RYWQ
Blurb:
Piper Winchester is fresh out of college. With only three weeks until her father remarries and five weeks until her first business venture launches, she's got her hands full. She certainly doesn't need any distractions to get in the way of building the future her father's always wanted for her. But when a familiar boy with bright green eyes walks back into her life, she's thrown for a loop.
Four years ago, Chase MacKenzie left for college without looking back. He didn't mean to disturb the peace then, and he definitely doesn't want to do that now. Once he lays his eyes on Piper again, there's no way he can leave without fixing what went wrong in the past. Although she's more determined than ever to push him away, he still manages to get under her skin. Regardless of what happens between them, there's one thing that will always be standing in their way…
He's about to become her stepbrother.
---
Soulless


Expected publication: February 23rd 2016
Amazon UK Link – Soulless: Lawless Part 2, King Series Book 4

Amazon US Link – http://amzn.com/B018PVXCQY
Blurb:
The finale to Bear and Thia's epic love story.
---
Bad Boy


Expected publication: February 23rd 2016
Amazon UK Link – Bad Boy (An Indecent Proposal)

Amazon US Link – http://amzn.com/B019YWB6VG
Blurb:
I should have seen it coming. Sexy? Handsome? Trouble? Check, check, and check.
Is he messing up my life? Hell yes. All the signs are there: he is a bad boy.
Even his name is a lie. Too bad I married him. I can't wait to get divorced.
Does this make me sound crazy?
I know I should avoid him, run as fast as I can. However, when a harmless misunderstanding lands me in a foreign prison cell, my dear, lying husband is the only one who can get me out. Crap. I shouldn't accept.
But how to say no to trouble when said trouble is the one who makes me fantasize all the dirty things he could do to me?
---
I Pick You


Expected publication: 23rd February 2016
Amazon UK Link – I Pick You

Amazon US Link – http://amzn.com/B019UD1R36
Blurb:
When I left Nashville, Tennessee, I knew deep in my heart I wouldn't be back. I knew I would never be heard on every country music station around the world, and I would never step foot on the Grand Ole Opry stage. Cold hard guilt and responsibilities that I didn't want forced me on a different path.
Me being responsible for an eighteen-month-old was a horrible idea. Me being a second grade teacher in a catholic school was plain ludicrous.
Life sucked, love hurt, and I didn't know who to pick