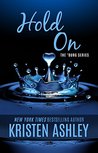 Hold On by Kristen Ashley
My rating: 5 of 5 stars
4/9/15 ahh…..the issue with reading a new KA book, I feel the need to go back and re read many of my oldie fave KA books after I have finished.
Also I kind of really want a book about Brendan's Uncle Jay. He can be added to my wish list along with Cal's secretary from At Peace as she was kickass awesome!
8/9/15
★Book Basics★
Genre: – Cont. Romance
Series: – 6th in the series
Love triangle? – No
Cheating? – No
HEA? – Yes
Would I read more by this author/or in this series? – Yes
Rating – 5 stars
★Review★
Now I was as surprised as anyone when I found this would be Merry and Cher, like most other ppl I expected Merry and Mia, and worried that I might not be convinced Merry was over Mia and Cher was his one.
But I need not have worried. I adored this book. I loved Cher so much more than I thought I would and I had liked her in the books in the previous series anyway. Merry however, was just something else. I expected the typical KA hero, and he was to a certain extent, but he had a vulnerability to him also that can sometimes be missing from a KA alpha, and a vulnerability he was fully aware of. He was just so much more than I anticipated.
There was something very endearing about them as people and then as a couple. Loved Cher, she was funny not perfect, doing the best she could, all about her boy, but nursing an unrequited love for Merry for years, and doing all she could, while hiding that to bring a smile to his face when she could.
Merry, ok, he did not start out too great hung up on his ex, but when a switch just flipped in him when he though Cher was in trouble, that was it for him.
What starts out as Cher trying to cheer up Merry and make him realise something about Mia he should have realised years ago, while getting drunk on expensive top shelf whiskey, soon turns into something more.
And as I say, while Merry may not have come across to well to start that all changes.
All in it was a brilliant ending to the series. I am a huge KA fan and make no secret of that fact, but sometimes occasionally, the odd book has fallen flat for me, and I worried that would be the case here, ending a series I loved on a couple of characters I had not anticipated actually every being together.
But, I truly enjoyed their story, and you rooted for them to be together and get their HEA. They had been friends for years and to experience them falling in love and coming together was beautiful. And I loved catching up with the previous couples.
All in, this book was chock full of emotion, a story of 2 flawed and messed up people, taking each others back and wanting the other person to be happy so much more than they wanted that for them self.
It had some drama and while not as dark as say "For You" with regards to the drama side, it is clear how the events in "For You" were still having far reaching consequences.
but I think this book has probably some of my favourite scenes from the entire series –

and I can see it being added to the list of books I just love to read again and again.
So with this, we see the end to The Burg series and I have loved every minute of it.