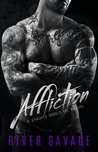 Affliction by River Savage
My rating: 4 of 5 stars
★Book Basics★
Genre: – Contemporary Romance
Series: – 2nd in the series
Love triangle? – No
Cheating? – No
HEA? – Yes
Would I read more by this author/or in this series? – yes
Rating – 4 stars
★Review★
Another great addition to the series.
Not as light-hearted as book 1 in my opinion.
The first 25% or so touches on the timeline and events from book 1 – I would say it is necessary to read book 1 first, as a lot of the first quarter of this book, is a re cap, and the knowledge of book 1 is needed.
But, it is a great story – as a reader being able to understand why Sy is as he is, and seeing the changes Holly goes through, how she changes after she is shot and dealing with the aftermath, to how she comes back to her self again, with the help of Sy.
Sy is a great character – his pain and past is truly heartbreaking, and his determination to help Holly overcome her pain, while still being in the dark about all she is hiding.
I really enjoyed the story and how thier relationship built and developed from a purely sexual one, to an almost reluctant friendship to a true love.
But and this is why it is not a five, I never really quite truly understood why Holly did not tell Sy straight off, and why she took so long to tell him about her pregnancy and subsequent loss. They were well into a relationship before she found out about his past, but this then just offered up another excuse to hold off telling him something I do not get why she did not tell him when it happened.
But, I am really looking forward to Beau and Jesse's stories.
Amazon UK Link: Affliction: Knights Rebels MC