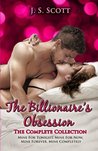 The Billionaire's Obsession ~ Simon by J.S. Scott
My rating: 3.5 of 5 stars
Was a nice enjoyable easy read, and a bargain price for the set.
At one point (when it was hinting at Simon never having had a girlfriend, except one woman when he was 16 and his life changed yadda yadda – I worried it was going to go down a Mrs Robinson copy of 50 shades of grey, but thankfully it did not)
Kara frustrated me at the halfway point! She decided she can wait until Simon is ready to tell her what had happened to him when he was young, let him do it in his own time, then the very next day is emotionally blackmailing the poor guy to get him to tell her!
In fact she seemed quite willing to use his fear of losing her to get her own way a lot tbh!
But, all in was a decent enough read and I may pick up Sam's story in the future.
Amazon UK Link: The Billionaire's Obsession: The Complete Collection Boxed Set (Mine For Tonight, Mine For Now, Mine Forever, Mine Completely) (The Billionaire's Obsession series Book 1)