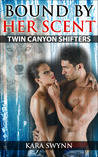 Bound By Her Scent by Kara Swynn
My rating: 4 of 5 stars
This is a great short read.
If you want a quick fun hot little read this is it!
Personally, I just wish it had been a full length book! I certainly think, given the history/backstory and glimpse at world building we got, and the quality of writing it could certainly have been a lot longer and given a lot more character and story development and been an excellent full length novel.
So that would be my only complaint really – just because I really wanted more from Ally and Ryker. As characters they were both engaging and I wanted to know more.
Ally thinks Ryker hates her, whereas Ryker knows Ally is his mate but is too scared to claim her, thinking her will hurt her.

"Ally was his weakness and the only way he could resist her was to avoid her, a tactic which Ryker had mastered over the past year. When Ryker couldn't avoid her, he argued with her – anything to keep her from discovering his true feelings. He was in love with her. It was torture at times to push Ally away, but it was for the best. She was his mate. It was his job to protect her. Even if that meant protecting her from himself…"

But when Ally is asked to do a "demonstration" to help teach the Alphas how to interact with human females when it comes to sex, Ryker struggles to keep his true feelings hidden.
I do have hopes this may turn into a series, with longer length books following, with some of the other pack members that were mentioned here.
I received her other book Homegrown Heroes – Ryan as a R2R and immediately looked to see what else she has published once I had finished that! I was rather disappointed to see only 2 published works! I wanted more! Certainly an author to watch for me given how much I have enjoyed her 2 short novellas. I just hope she starts doing some longer books for me to really get my teeth into!
Amazon Uk Link: Bound By Her Scent (A BBW Shifter Romance): Twin Canyon Shifters