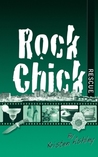 Rock Chick Rescue by Kristen Ashley
My rating: 5 of 5 stars
★Book Basics★
Genre: – Cont. Romance
Series: – 2nd in the series
Love triangle? – NO
Cheating? – No
HEA? – Yes
Would I read more by this author/or in this series? – Yes
Rating – 5 +++

★Review★
Reviewing after what must be my 15th re read of this book.
Shall keep it short.
LOVE LOVE LOVE Eddie. Adored Jet, even if she drove me insane at times.
I enjoyed how Jet had spent most of her life, looking out for others, sacrificing for her family, yet in this book she has an entire group of people all stood there willing to be her back up and catch her when she falls. With Eddie right at the front of that group.
Eddie had spent months trying to get Jet's attention, and when he eventually has his chance, he refuses to let anything, even Jet herself, spoil it.
Add in some bad guys, a bit of drama, some funny moments, and it is an excellent 5 stars.
A great addition to the Rock Chick series, and one of my favourite couples in the series – shall be a book I re read many more times.
Amazon UK Link: Rock Chick Rescue