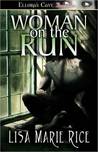 Woman On the Run by Lisa Marie Rice
My rating: 4 of 5 stars
11/01/2014 re rated from a 3 star to a 4. I had issues with the start, but since I finished it I have found myself thinking about it and how much I liked it in the end and I shall be trying more books of hers out.

This was my first book by this author.
Have to admit, in the first few pages, I was wondering if I would finish this.
We have Julia Devaux, who witnesses a mob murder.
And what are her concerns upon being told she has to go into the Witness protection programme? The name she has been given. "That's ridiculous" Julia Devaux snapped testily. "Do I look like a Sally" And that is hardly a huge spoiler, it is the 2nd line in the book.
Now at this point, I am thinking, if you have witnessed a mob hit, and the mob guy has put out a bounty on your head, I would be grateful for any help and assistance I could get.
But she agrees to it, although not before we are given a full breakdown of her history and "pedigree" to understand just how sophisticated she is.
Off she goes into witness protection and it feels like it has to be pointed out, repeatedly, just how sophisticated she is compared to where she is now.
"She had found two suitcases full of clothes waiting for her at the airport. All stodgy, dull, shapeless and unfashionable, made from material manufactured in some factory in China that used under age labor…….one thing for sure – she did fit right in"
"Who dresses this Guy" she thought "Elmer Fudd"
"She had been banished. Frederico Fellini, her beloved finicky cat, was in a foster home. Would his foster parents remember to feed him only the choicest cuts of meat and take him to the homoeopathic vet"
She gets invited to someone's house for the "macaroni special", and ofc she is off thinking "visions of her favourite trattorias in Italy swam before her eyes and she almost wept. Gorgonzola and penne. Amatriciana. Pesto" only for her to be disappointed when she discovers it is "she just cooks noddles for about an hour until they are nice and soft and then adds ketchup and cheddar and shoves it on the oven"
"In her mind all the males she had met had either been married since they were twelve or lacked a faculty or a limb or struggled to reach 3 digit IQ's"
"Julia's mother had managed to find a turkey for thanksgiving in Dubai, pumpkins for Halloween in Lima and a Christmas Tree in Singapore"
"She walked on cracked tiles, eyeing the crumbling plasterwork and yellow water stains of the walls. A far cry from the posh private school she had attended the year the family loved in Rome. It had had a Tiepolo fresco in the auditorium. "

This was all in the first 4% of the book. It did not make me sympathise for and with Julia, it almost had me rooting for the hitman to find her in all honesty.
And I do not even want to get into the ridiculousness of someone who is an editor, being put into witness protection and having to pose as a teacher and being in charge of a classroom of little kids, with no experience of being around little kids, or teaching, yet seeming to get on very well with it.
But then enter Sam Cooper, who saved this for me, and Julia started to grow on me. Sam is a big quiet man, and his inner dialogue when he is thinking about how much he likes Julia, or actually wants to jump Julia is humorous and endearing. "Foreplay, foreplay, foreplay, Cooper repeated the words like a mantra to himself as he drove back to Simpson and Sally…..Maybe he should smack his forehead against the steering wheel to keep some blood in his brain so he could remember.
Foreplay, foreplay, foreplay.
He was not going to pick Sally(julia) up, strip her, pin her against a wall and shove his cock inside.
Not not not."
It had good cast of secondary characters that you actually cared about and they were all so happy Coop was finally getting laid.
And I liked the ending, I have read that a few ppl maybe had an issue with the abruptness of the ending, but I liked how it was done – Sam, who had been pretty much a one word man, at the end, is chattering away with Julia trying to get a word in, and it just ends with "Cooper" she said lovingly "Shut up".
All in all, it was a solid 3 stars after a shaky start for me, but I do not know if this would inspire me to read any more by this author.
Amazon UK Link: Woman On The Run